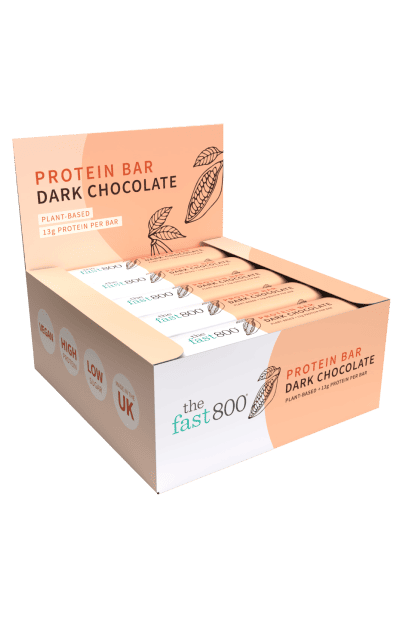 The Fast 800 Dark Chocolate Protein Bar – Box of 12
£24.99
The Fast 800 Protein Bars are made from all natural ingredients with 13g of protein and 9g of gut-loving fibre giving you the benefits of a Mediterranean-style diet, with the convenience of a quick protein boost. Plus they're vegan too!
2945 in stock
No added sugar or simple carbs
Unlike many other protein bars on the market our bars have absolutely no added sugar and are very low in simple carbs.
High in protein
With 13g protein in every bar, they are ideal for boosting your daily protein intake.
High in fibre
The Fast 800 Protein Bar has more than 9g fibre per serving, which is important for gut health and keeping you fuller for longer.
Natural ingredients
Made only with natural ingredients, The Fast 800 Protein Bars contain no artificial additives.
Vegan-friendly
Especially designed for vegans, containing soy and pea protein sources.
Ready to eat
With no preparation required, The Fast 800 Protein Bar is a quick and easy source of protein for on-the-go.